The Bell 525 Relentless, an intense flying experience
It's in 2012, during the Heli-Expo in Dallas, that Bell Helicopter has launched its last model of mid-range air transportation, Bell Relentless. So expected and submerged of mystery, this American manufacturer's new opus targets clearing the delay regarding the competition, especially on the European side. The helicopter's first flight is expected in 2014 and might be strongly rivaled by Eurocopter's EC175 and Augusta-Westland's AW 189.
The Bell 525 Relentless, tremendous conception and development
The Bell 525 « Relentless », also christened "Implacable" was built using composite and metallic materials.
It represents the successful outcome of "Project-X" and "Magellan" research programs, developed by the manufacturer.
The cabin is made of rustproof aluminum, allowing smoothly the aircraft's maintenance and longevity, the triple flight control system "Fly-by-wire" is used for the first time on this model.
The flight deck is equipped of a touch screen 6500H Garmin system with data fusion, supported by four main screens and "Telligence" voice command system.
The Bell 525 is a helicopter that breathes innovation. A Simulator "aircraft zero" was developed by the firm, an investment that helps identifying imperfections before the engine takes off: a significant time saving.
Performance and elegance for the implacable
This engine shows high performance flight abilities for a twin-engine General-Electric GE CT7-2F1 of 1300 KW, reaching 267 km/h, in a low consumption.
The exterior equipments enhance aerodynamics: modern design fins, four-bladed "soft-in-plane" rotor, anti-ice protection.  The cell is equipped of an ARC system that promises roughness and engine surveillance, completed by an MSG-3 maintenance standard.
The indoor, can accommodate up to 16 people offering a "best-in-class" comfort on 20-inch-large seats, with led lighting, and built-in ventilation system.
The ergonomic flight deck offers "J-piste" seats, manageable and can easily be pulled outside, in case of a crash evacuation. The PSF configuration allows the passengers' entry and exit and the 3.6m3 luggage area was mounted for a heavenly comfort.
With a range of beyond 400 nm, high-tech equipment and an incredible power, Bell 525 Relentless targets the gas and petrol market; nevertheless it was also designed for other activities, such as research and rescue fields, emergency medical services as well as VIP transport.
Since the launch of Bell 525 Relentless, in 2012, jet pilots and air companies from all around the world have expressed their enthusiasm regarding the handling and on-board living on this aircraft. Those who have tried it, testified of a great comfort experience and were astonished by its ergonomic cabin and highest-quality safety components.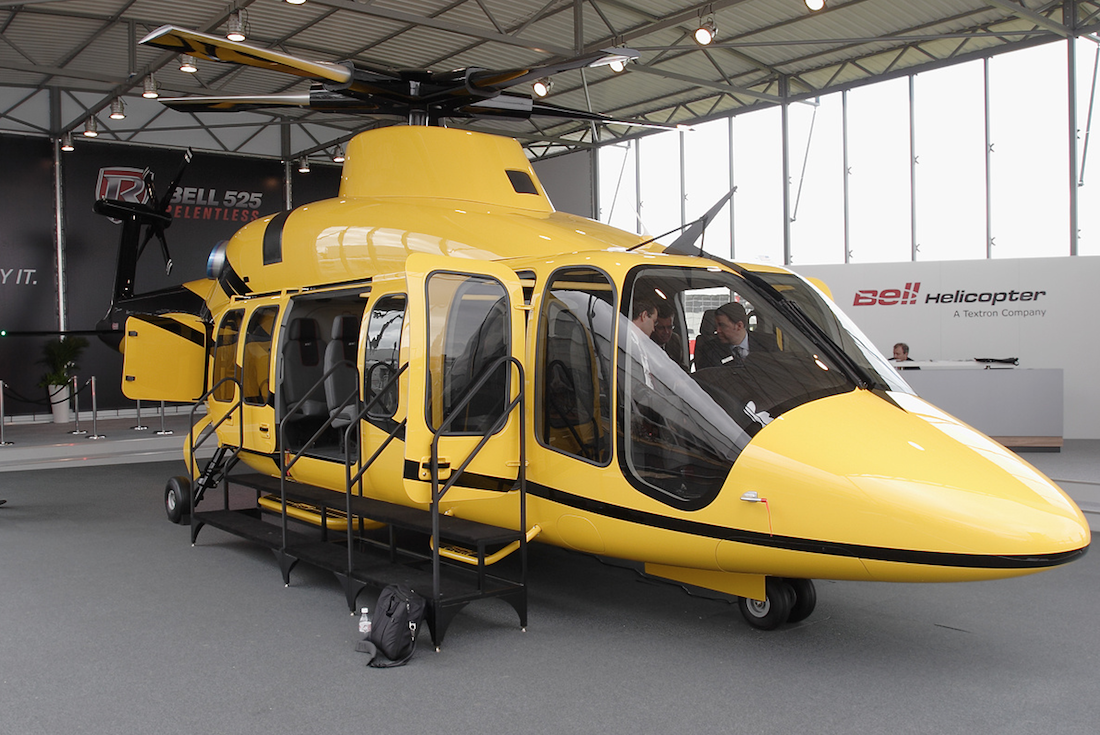 [button size="small" color="black" style="none" new_window="true" link="http://www.bell525supermedium.net/"]For further information, visit the Bell's website[/button]