The Blue Merit by Grieb & Benzinger: a sensational new masterpiece
GRIEB & BENZINGER proudly unveiled its 2014 spring top highlight: the Blue Merit, a tourbillon based on the famous, rare, and sought-after Tourbillon Pour le Mérite by A. Lange & Söhne.
A unique collector item
Just in time for the 20th anniversary of A. Lange & Söhne's re-launch in 1994, the masters of GRIEB & BENZINGER surprise watch collectors with a creation displaying deep respect for A. Lange & Söhne's traditional art of watchmaking. The Tourbillon Pour le Mérite is one of the original timepieces representative of the remarkable comeback of this imperial watch brand, which was resuscitated following almost 50 years of inactivity caused by Germany's historical division.
It was a matter dear to the GRIEB & BENZINGER masters' heart to create the amazing Blue Merit masterpiece based upon an original A. Lange & Söhne caliber. It took twelve months to transform the original timepiece into its final breathtaking form, one that is very characteristic of GRIEB & BENZINGER's signature style.
As the GRIEB & BENZINGER team journeyed to the edge of what is technically possible to modify the movement, it naturally took the artisans' full attention and horological experience. Numerous details once again confirm that the complicated masterpieces of GRIEB & BENZINGER are more objets d'art than watches.
With its solid 41 mm platinum case in typical GRIEB & BENZINGER style, the Blue Merit is another breathtakingly unique collector's item that confirms the brand's special position within the intimate sphere of luxury wristwatches.
The price for this ultra-exclusive timepiece: US$ 530,000.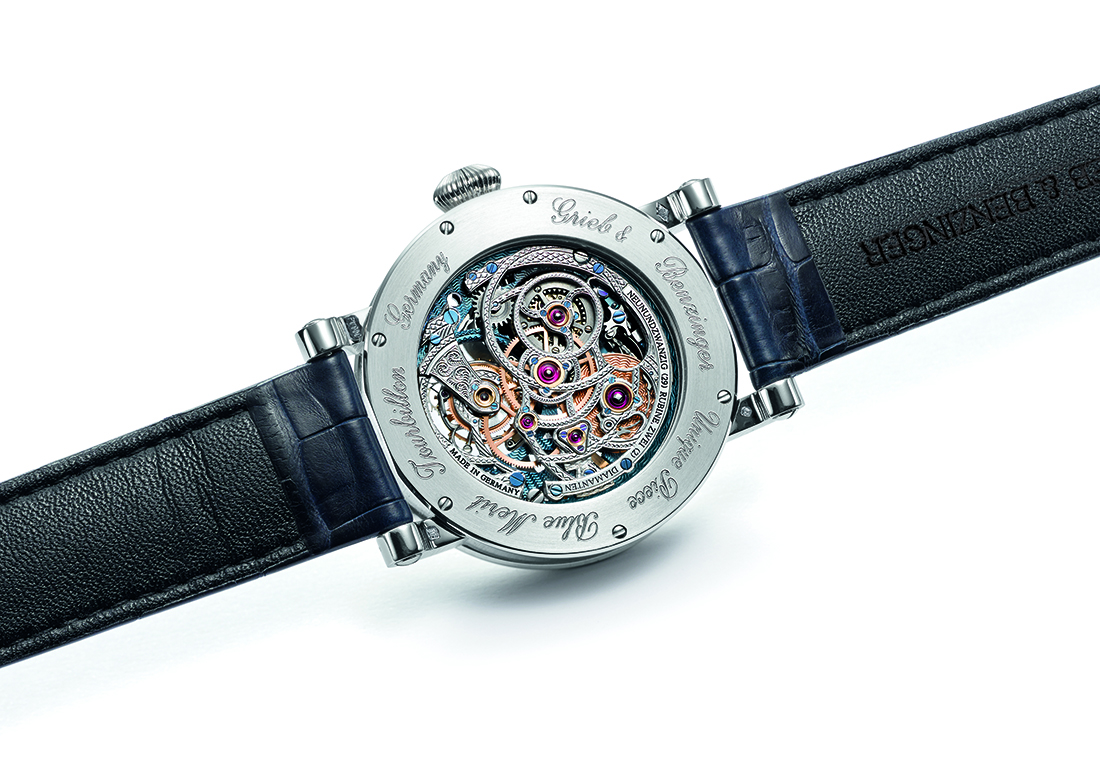 [button size="small" color="black" style="none" new_window="true" link="http://www.grieb-benzinger.com"]More information on GRIEB & BENZINGER[/button]